Transcripts: Lexi Kerr, ODDLY
Theo Macdonald talks to Lexi Kerr about ODDLY, a new artist-run initiative in Tāmaki Makaurau


Transcripts | Lexi Kerr, ODDLY | Tāmaki Makaurau

15.03.22 | written by Theo Macdonald
Transcripts is a series of interviews conducted by Theo Macdonald originally for 95bFM's Artbank programme, transcribed for Vernacular.
Listen to the whole episode on
Artbank
, or jump to 1:18:50 for the original interview with Lexi.
This interview was conducted on Friday, January 28th, 2022 and aired on 95bFM's Artbank on Sunday, January 30th, 2022.
Theo Macdonald: Oddly has just opened in the former site of Satchi and Satchi and Satchi, at 216 Dominion Road. How did the project get started?

Lexi Kerr: The idea originated when I was at university. There weren't many connections happening between year levels, and I kept having this idea that there needed to be a space for this. When I left uni I took a creative break and then started feeling like it would be cool to have a studio, somewhere to go to make my art. I couldn't find anywhere, really. Studios are hard to come by.

I happened to go to one of Satchi and Satchi and Satchi's openings, and was talking to (S&S&S co-gallerist) Ursula Bradley, and asked if she had any advice about starting a studio. She said their lease was coming up, and I asked her to let me know if they decided not to renew it, because I'd be keen to take it on. Here we are.

TM: What is your background as an artist and gallerist? Have you done gallery work before?

LK: Actually I haven't, this is all new for me. I really like celebrating with people. That fills my bucket, you could say, which plays into opening this space. This first show has taught me a lot already and I'm excited for the year ahead.

TM: Where were you studying?

LK: I studied at Whitecliffe, and when I was there I did quite a lot of performance art in my first two years. I was really interested in the difference between private and public. One of the shows I did was a haircutting event. It was my first end-of-year show, and I sat there with a razor and scissors, and the audience could cut my hair as they wished. There were forty or fifty bags on the wall in a square, opposite where I was sitting, and once they had cut a piece they could put it in a bag. Once the bags were filled, that was the end of the show, and I came away with this horrific haircut. I was interested in the different comfort levels of audience members, some of whom came in really gung-ho, and others who said "I could never do that," and didn't get involved at all.

Aside from that I also quite like sewing my own clothes, and creating in that way too. In the third year, my final year, I focused more on weaving, and sewing, and the materiality of fabrics. It ended with an installation.

TM: There are two artist-run spaces in Pōneke that have studios attached to them, Meanwhile and play_station. Do you think having artists right over the wall changes the flavour of an artist-run space?

LK: Yeah, I think it is quite interesting. People at the opening show were definitely curious about what was happening at the back. I think it's cool because the artists in the studios are supporting the show.

TM: I like the suggestion of a fully-formed community. The production and exhibition spaces are right next to each other. It feels encouraging.

LK: It also feels a little more casual, and for an artist-run space I think that's nice.

TM: Do you anticipate Oddly having a performance programme?

LK: I'd love to celebrate all sorts of art forms. I think performance is so strong, and such an interesting medium. For people out there doing it, I'm keen to hear from you.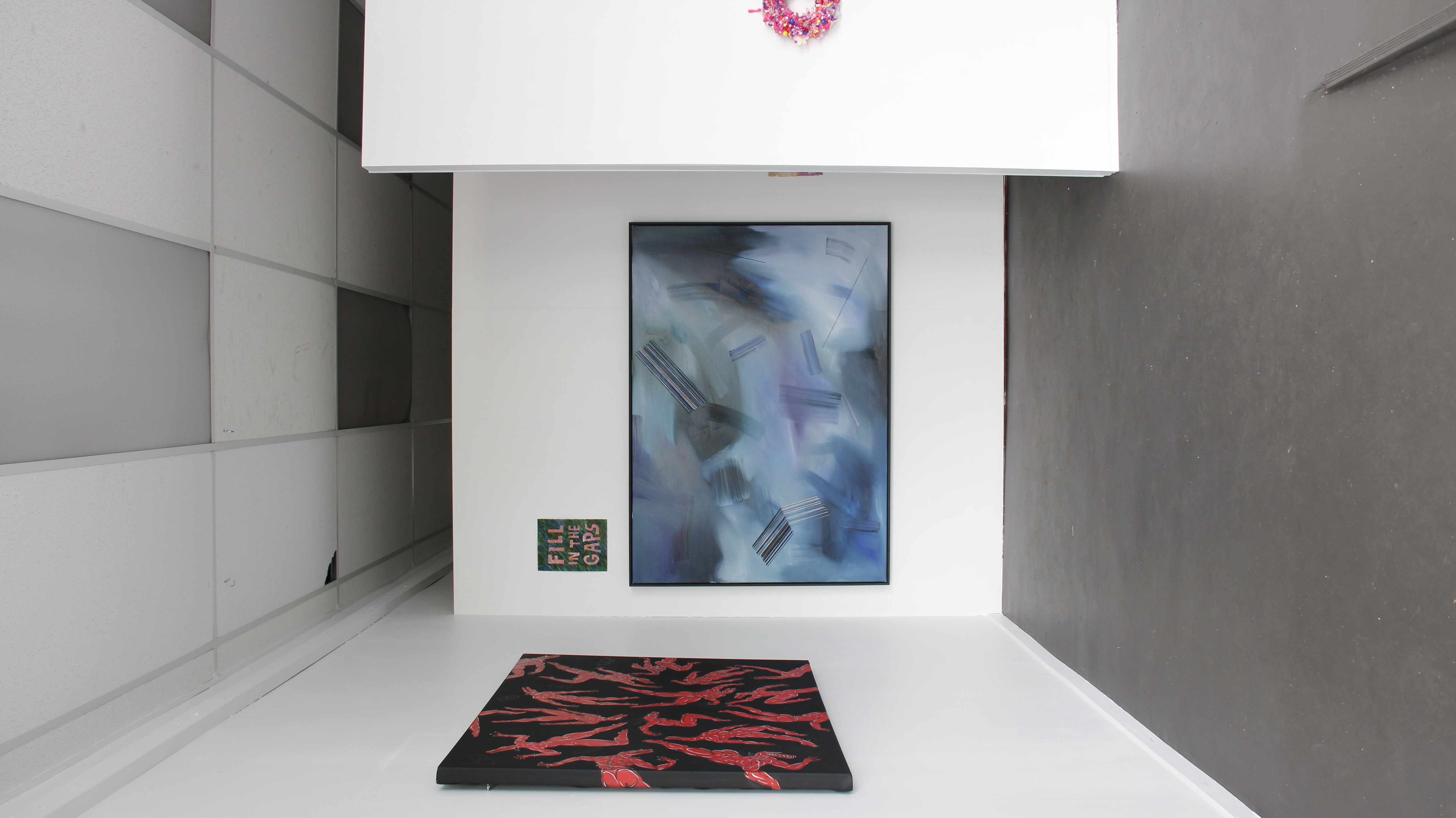 ODDLY Opening Show
, 2022, installation image. Photo by Lexi Kerr.
TM: The first exhibition (Oddly Opening Show) had nine artists. Did you approach artists you liked, or artists you knew?
LK: A bit of both, actually. A few of them I knew already from the scene, and a few I had never met before, but I approached them because I liked their art, and really admired it.
TM: Some artist-run galleries, such as Parasite, are formed with a clear rubric. Do you have a motivation, or guiding principle, for Oddly?
LK: I think one of the biggest values I have with Oddly is connection. I'm interested in connecting with other artists, and having that be the main thing that happens. I'm in the learning stages of this. All the artists out there are learning too, and hopefully the gallery naturally forms into what it is going to be. What we show will shape how we are seen.
TM: Being on Dominion Road also informs how the gallery feels. How do you feel about being in that part of the city?
LK: Dominion Road is so cool, there's so much happening here. On one side we have NiceGoblins and on the other side we have I Am Hope, which is run by Mike King. The other day, when we were setting up, a guy came over and said "Hey, we're making coffees if you want anything." There's such a feel-good vibe where we are. There's a community here that I'm excited to get to know more.
TM: A few artist-run spaces are popping up at the moment. Why do you think this is happening?
LK: There must be a need for it. Like me, they must want a space to show, and they must be interested in the artists around them. I'm excited to see what these other galleries do, and how the scene evolves. Artist-run spaces are necessary, and there weren't many open last year. There might also be a need now that people have been sitting at home, and want to celebrate while they can.
Article image: ODDLY on Dominion Road, photo by Lexi Kerr.
ODDLY has just launched a BOOSTED campaign
to fund running costs for the gallery and studio spaces. The campaign runs from March 10th to April 8th.
"Our vision is for ODDLY to provide a supportive space for artists: to develop their art practice, encourage conversation, and make genuine connections within the art community."
All Transcripts