The Power that Flows Through Us

Exhibition by Matthew Galloway
The Power that Flows Through Us | Matthew Galloway | Sites across Heritage Precinct Cromwell and Clyde Museum

04.02.23 | written by Andrea Bell
After hours of driving from Ōtepoti on a hot summer's day we finally reached the Clyde Dam. Up until this point I'd intended to pull over at the viewing area, to behold the Dam in all of its one-million-cubic-metres-of-concrete glory. But any hint of poetic inspiration was soon replaced with an irrational sense of fear. I knew the Dam was going to be big, but not this big. The turn-off fast approaching, I hit the accelerator to pass as quickly as possible, heart racing and grateful to be focusing on the road ahead.

The Clyde Dam is Aotearoa's third-largest hydroelectric dam, built on the Mata-Au/Clutha River. The country's largest concrete gravity dam, it measures 100 metres in height, and nearly half a kilometre in length. One of Prime Minister Robert Muldoon's famous 'Think Big' initiatives of the 1980s, the Dam controversially changed the course of the Clutha river, flooded acres of orchards and part of the town of Cromwell with the creation of Lake Dunstan. Special legislation was needed at parliament to get the hydroelectric scheme started, overriding environmental impact assessments and community consultation.1 Construction took over a decade, interrupted by the discovery of active geological faults, and was finally opened by Prime Minister Jim Bolger in 1994. Though the Dam was a government venture, subsequent economic policies led to the Crown's deregulation of New Zealand's electricity market, forming several state-owned entities including Contact Energy–the since privatised owners of the Dam.

Matthew Galloway's The Power that Flows Through Us offered multiple voices and perspectives on the history and legacy of Clyde Dam. His research-based practice questions power, politics and our relationship to place and identity. In this multi-site, multi-media exhibition, Galloway highlighted the controversy and narratives connecting the Dam's past, present and future.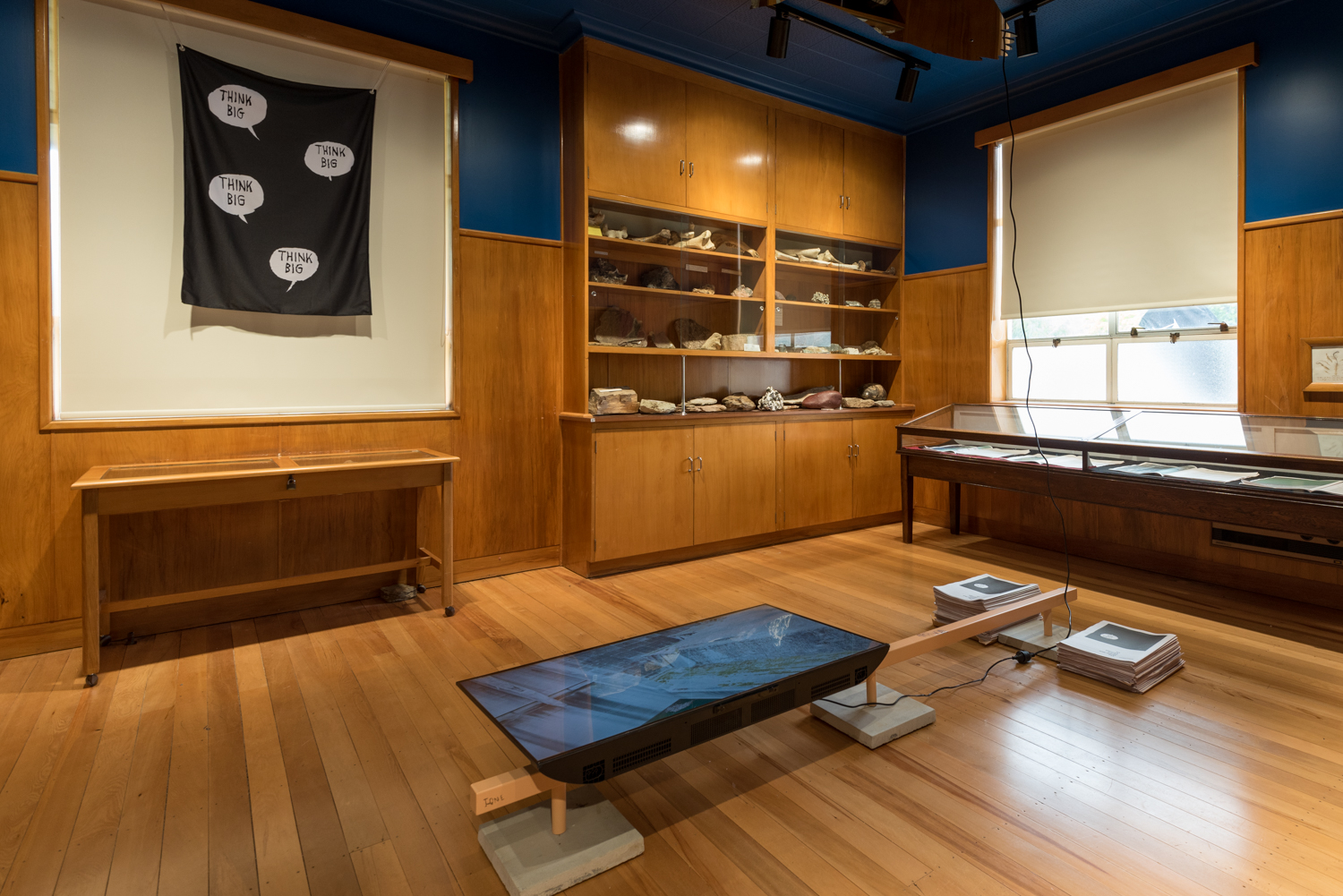 At the Clyde Museum, Galloway's installation was nestled into a dusty room lined with existing museological vitrines containing geological rock samples taken from the Clutha; and a hand painted map detailing the river's original course, historic landmarks, Bowenite, Greenstone and Moa hunting sites. On a screen mounted flat on the floor, Galloway presented aerial drone footage of the Dam, documenting its power and the deafening force of the water, interspersed with audio recordings of Brian Turner's river poems. Double page spreads from The Power that Flows Through Us newspaper publication were arranged in adjacent glass cabinets, and stacked in small piles on the ground. Up high, a black 'Think Big' flag referenced political cartoons from the Muldoon era (1975-84) in which the former Prime Minister extolled the long term benefits of his economic growth strategy, borrowing heavily to invest in large-scale energy-related industrial projects. 'Think Big' came at a time when New Zealand was facing a global oil crisis with car-less days and an economic downturn, high inflation, increasing unemployment and industrial strife. These projects proposed to make the country more than 60% self-sufficient in energy, and create more than 400,000 jobs.2 However, Muldoon was known to greatly exaggerate the benefits.

The Power that Flows Through Us continued across several relocated historic sheds at the Cromwell Heritage Precinct. The Precinct was created in an effort to save and restore buildings dating back to the Otago gold rush, otherwise destined to be lost under Lake Dunstan when Cromwell's main street was drowned by the Dam. Today, the Precinct operates as a visitor attraction offering bistros and boutique real fruit ice cream. It has clearly benefited from the town's growth as part of the district's property boom, Cromwell's proximity to Queenstown, and the recent Central Otago rail trail, now attracting the wealth of bronzed middle-aged Pākehā cyclists. In the historic London Stables, Behrens' and Wisharts' Barns, Galloway again presented drone footage accompanied by Turner's poems on screen, his newspaper edition displayed in neat piles on pallets on the dirt floor, and flags reinterpreting further political cartoons of Muldoon and related commentary. Although there is some repetition, each site offered enough to be understood when encountered individually, against a backdrop of playful contextual props: barn doors, colonial mannequins, and a paint-chipped horse.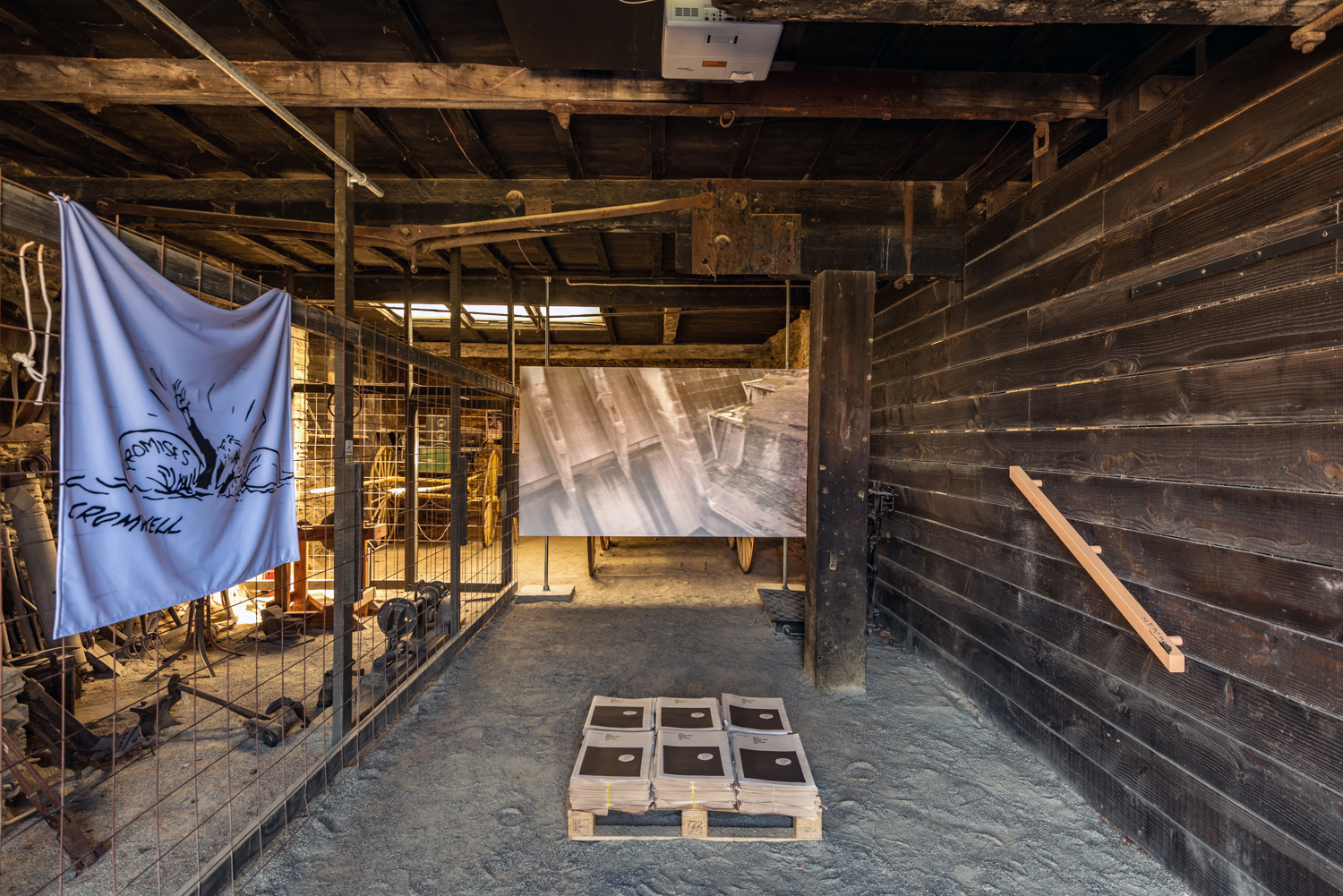 Of all the contributing elements that made up The Power that Flows Through Us, Galloway's A3 newspaper edition provided the most depth into his inquiry, offering diverse perspectives on the impact of the Dam. An interview with Edward Ellison (Ōtākou Ngāi Tahu Kaumātua), discusses the abandoned Aramoana aluminium smelter proposal (another Think Big proposal originally intended to be powered by the Dam), and mana whenua's conversations with authorities at the time. Kevin Jackson, an orchardist whose property was flooded by the Dam shares his conflicted grief in losing "the best apricots in the world"3 whilst also facilitating the Dam's progress as boat skipper for engineers and politicians surveying the Clutha. A reproduced text by Tina Ngata speaks to the importance of water from a Te Ao Māori perspective, and Neil Gillespie (Deputy Mayor for Central Otago District Council, Community Relations Project Manager and Hydro Sustainability Specialist with Contact Energy), recalls memories of the Dam's construction as an employee, and considers the complexities involved in balancing resource management responsibilities. Elsewhere, Gillespie suggests that the region enjoys greater prosperity today thanks to the creation of the lake for recreation and irrigation for horticulture.4 In contrast, Duncan Faulkner of the Lake Dunstan Charitable Trust speaks out against the ongoing environmental issues affecting the lake—specifically the accumulation of three decades of silt washed down from the Kawarau River, and pervasive weeds—seeking accountability, and advocating for the lake's conservation. The publication is braided together with poems by Turner, maps and illustrations, photographs past and present, and cartoons reproduced with permission of the artists and the National Library of New Zealand.

And as I write this on my laptop using electricity powered in part by the Dam, and eating stone fruit likely irrigated by Lake Dunstan, I can't help but take for granted the sacrifices of those who made the Dam possible. With its huge cost blowout it's hard to imagine such an ambitious project going ahead in the current political climate. Muldoon promoted the Dam as part of a greater economic rescue package, but 30 years on it is one of the single most important pieces of renewable energy infrastructure in the country. However, its privatisation remains an issue. Though not included in the show, recent news that Contact Energy and British company Lake Parime have reached an agreement to set up a 10MW data centre directly in front of the Clyde Dam has some locals worried.5 And while commercial confidentiality prevents disclosure of exactly what data processing will take place at the centre, there is speculation that the thousands of computer servers on site will be used for mining cryptocurrency alongside other high data storage needs. Concerned residents such as Duncan Faulkner have been vocal against the facility, "we're essentially exporting our renewable energy overseas...we won't always have excess power available and we need to control it."6 Agreeing to such terms at the expense of national interests feels like a giant step away from Muldoon's vision for a self-sufficient 'Fortress New Zealand.'7 While the rest of us give little thought to our energy source each time we flick a switch, The Power that Flows Through Us weighed in on the complexities of politics and power generation, at a time when pending climate and geopolitical challenges require big thinking again.
Matthew Galloway,
The Power that Flows Through Us
, 2022–23. 25 November 2022 – 08 January 2023 in Central Otago.
Limited copies of the accompanying publication may still be available at Blue Oyster, The Physics Room, and Te Pātaka Toi Adam Art Gallery.
Article image:
Matthew Galloway,
The Power That Flows Through Us
, 2022-23, video still. Directed by Matthew Galloway, with drone operator and Photographic Direction by Jon Wilson courtesy of the artist.
All other photos: Matthew Galloway,
The Power That Flows Through Us
, 2022-23, installation view, courtesy of the artist.
1. "Revolution – 1, Fortress New Zealand | Television".
NZ On Screen
.
Accessed online
30 January 2023.
2. Ibid.
3. Kevin Jackson, quoted by Mark Price in 'How the Clyde dam transformed the Cromwell Basin',
Otago Daily Times
, 27 January 2020,
accessed online
31 January 2023.
4. Neil Gillespie, as quoted by Mark Price, 'The legacy of the Clyde Dam on the Cromwell Basin', Otago Daily Times, 27 January, 2020,
accessed online
1 February 2023.
5. Debbie Jamieson, 'Data centre could be mining cryptocurrency in Central Otago by October',
Stuff
, 3 April 2022.
Accessed online
1 February 2023.
6. Ibid.
7. "Revolution – 1, Fortress New Zealand | Television".
NZ On Screen
.
Accessed online
30 January 2023.