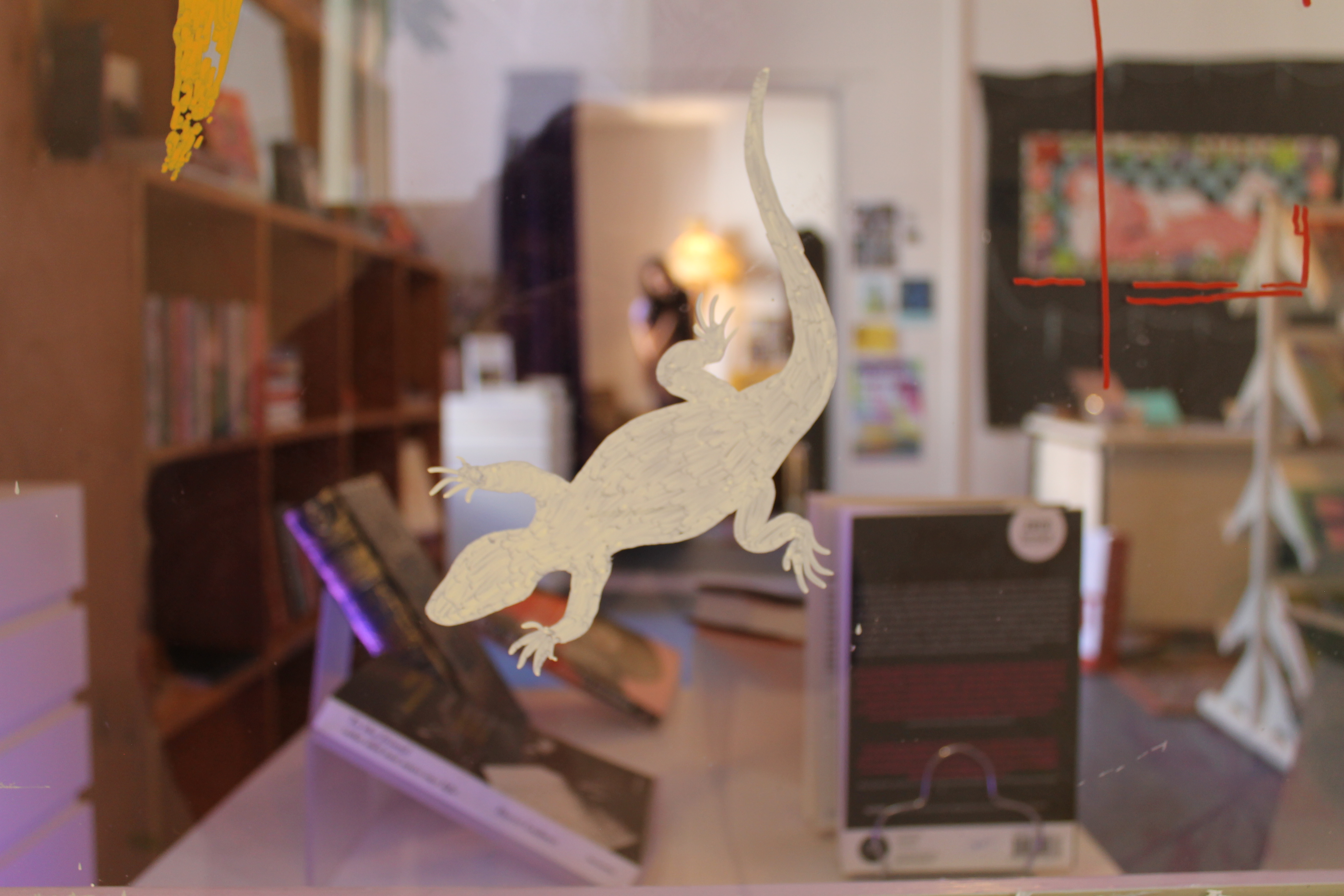 Te Mahi Peita and Kare ā-Roto

Curated by Piupiu Maya Turei
Te Mahi Peita and Kare ā-Roto | Group exhibition curated by Piupiu Maya Turei | Tini Whetū, Ōtepoti

23.03.23 | written by Caitlin Rose Donnelly
I was fumbling with my umbrella on a rainy day and was relieved to have found the right spot when I met Piupiu and her pēpi. She was kind enough to come down to show me around the current exhibitions Te Mahi Peita and Kare ā-Roto at the new physical location of Tini Whetū Project Space, the artist-run initiative she facilitates in Ōtepoti.

I met Piupiu Maya Turei (Wairarapa Moana, Te Atihaunui-a-Paparangi) and her whānau through Paemanu: Tauraka toi when she was a Curatorial Intern at the Dunedin Public Art Gallery. Well, I first met her and her mother at the Dunedin School of Art when our paths crossed at the long-standing lunch spot of the white jewellery table. She was hapū with her first tamati then, and I was returning after having had my pōtiki. Subsequently, I have watched the growth of her whānau and Tini Whetū simultaneously and have come to know Piupiu as a kind and outstanding person who facilitates valuable projects—so I was excited to see this space with her.

Te Mahi Peita
(detail), 2023.
She led me up the steep steps at the side of the Ōtepoti Possibilities Cooperative (ŌPCo) building to 43A Moray Place, where the
Evening Books
shop and
Yours
offices are. Piupiu had answered an open call for art from Frances, the operator of the bookshop, with a proposal for the Project Art Space. She told me how lovely they have been to work with, and how warmly she was welcomed. The experimental and anarchist methodologies of Yours and Evening Books, alongside Kaupapa Māori foundations and the prowess of
Paemanu: Ngāi Tahu Contemporary Visual Arts
, have directly influenced the core principles for Tini Whetū.
We continued through the door and followed a sectioned-off kitchen to the
Te Mahi Peita
exhibition entrance. The entrance is veiled by a white curtain with the painted text: Tini Whetū Project Space. The paint is made from source materials which secure a connection to Piupiu's stable foundations: kōkōwai that artist Moewai Marsh gifted; honey from Hawkes Bay, where Piupiu's partner has family ties; and water from Piupiu's awa, the Ruamāhanga in the Wairarapa. Walking through the curtain reveals the exhibition. The artwork has been painted directly on the walls, skirting boards, windows, window frames and even a little on the floor. Observe the many shapes and patterns in the works, which is evocative of rock art—an expression of the need we share with our tūpuna and tamariki alike for mark-making. There are words and tags among the paintings/marks; one is "Haututū 4 life". Haututū is a word for mischievous, inquisitive, and non-compliant, a characteristic we celebrate as our tūpuna and tamariki do.
The gallery space is a small hallway with windows to the outside and opposite are internal windows that look into the shop. You can see each of the twelve artists' marks mingling in multiple areas. For some works, you can pick which artist it is you're looking at, and for some, it is hard to know whose is what. Piupiu explains that the installation of the exhibition was a good time; bodies were everywhere, piled in the small space with music, kōrero and laughs. The exhibition was not super planned, instead it leaned into ideas around spontaneous art-making, allowing for all sorts of serendipitous moments. Some artists came prepared with plans, and others winged it. All are drawn through feelings rather than a strict context to adhere to, resulting in what feels like one shared body of art—of marks spanning the entirety of the space.
Zoe Angus Tahere Hayes,
Untitled
, 2019
.
Through the windows into the shop, you can spy Kare ā-Roto. This complimentary exhibition features an untitled artwork (2019) by Zoe Angus Tahere Hayes from a private collection. Angus was a close friend to many, including Piupiu—they passed in 2022. The inclusion of their mahi toi celebrates the artwork itself and Angus as a person. The artwork is, as Tini Whetū writes, "the offer of a smoke and cuppa tea". Angus understood that everything is interconnected and that all facets of themself and their history influenced how they navigated the world. 'Kare ā-Roto' means a person of affection, emotions and currents within ourselves; there is no more fitting way to describe a beautiful artwork and a beautiful friend.

Piupiu's approach to working with artists, projects and the juggle of life is calm, considerate, selfless and chill, despite what I assume is a large workload—she would not let on, thus living up to Tini Whetū's description of playful and light-hearted. Her curatorial approach differs from the norm, and where it differs comes from her core values rooted in kaupapa Māori. She aims to create a stress-free work environment for her artists through manaakitanga. Manaakitanga is the act of looking after people respectfully, offering hospitality, being kind and considerate, assisting, and generous. Tini Whetū creates exhibitions robust enough for tamariki viewers, extending manaakitanga to families and artists like herself whose practice is interwoven with raising children. Like past projects by Tini Whetū, this exhibition will reward the viewer's child-like curiosity, and I enjoyed the variety of intensity in the paintings; some had details which required a physically close viewing, and some flowed so well you could feel the movement of the tuna on the wall, while others were so bold they drew you in from a distance. Painted text—'hina keha', 'hina uri'—and a list of star signs coupled with vulva-shaped marks in various patterns and styles throughout the entire space can talk of the moon, natural cycles, and grief. Hina-uri is the sister of Māui who, upon finding out that he had turned her husband into a dog, threw herself into the sea.

Piupiu requested two critiques. While I stared at the walls and studied the artwork, the large, subtle and intricate details of Te Mahi Peita, I could not help but think: "Argh! She wants critiques, but all I can see and think are positives." Building and facilitating a project art space for Māori artists; it is hard to think of let alone suggest she do anything more. I see the relationships in this space—human connectedness. I see ata, the development of nurturing, giving, respectful, healthy relationships; this makes her practice an enjoyable honour to those involved. If you are familiar with past projects by Tini Whetū, you'll notice that these artists are not just here for a one-off exhibition; this is the result of or the start of ongoing relationships. Piupiu's ata and manaakitanga have created Tini Whetū and made this project space possible.
Te Mahi Peita
(detail), 2023.
"Does the space do the work justice?" Piupiu asked me. This is a question of value in my mind, and it becomes a tangled web of inquiries and thoughts: Is the artwork valuable? This is like asking if the artist's time and whakaaro are valuable. Is this type of artwork valuable? Answering all that is a strong yes; it is highly prized in my eyes. So, it is a question of whether the space is valuable enough to match; the space is a small hallway after all. What makes a space deserving of mahi toi? What would the work be in a different space, such as a traditional gallery where the space already holds a high mana? Although attributing mana to a space, person, or whakaaro is already subjective. What would a different environment change within the work and its meaning? Do these artworks deserve to be seen in a space with higher foot traffic than this one can offer? Maybe yes. However, is this space any less deserving of high-quality artwork? No. Without fleshing the whole thing out here; the history of the white cube gallery is from Western culture. It does not come from an Indigenous culture, therefore not all artists—or visitors—feel comfortable in a space which holds an ideology that once excluded their tupuna. Piupiu makes it her duty to ensure her artists and audiences are comfortable and well-provided for. Where did our tūpuna place their mahi toi? Our tūpuna painted on cave walls in their campsites, not just places of sacredness. But in so doing, these places became sacred, much like the small hallway gallery which now houses mahi toi.
Therefore, I ask; Does Tini Whetū Project Space do the artwork of
Te Mahi Peita
and
Kare ā-Roto
justice? I answer, Yes.
Te Mahi Peita and Kare ā-Roto
, 2023. 22 February – 22 April, Tini Whetū Project Space, Ōtepoti.
Te Mahi Peita
, 2023, artists include:
Vicki Lenihan
Heramaahina Eketone
Megan Brady
Jessica Hinerangi Thompson-Carr
Madison Kelly
Georgina May Young
Mya Morrison-Middleton
Toa Emmett William Makapelu
Aidan Taira Geraghty
Aroha Novak
Jacob Tucker
Piupiu Maya Turei
Kare ā-Roto
, 2023. Includes
Untitled
, 2019, by Zoe Angus Tahere Hayes.
Te Mahi Peita
(detail), at Tini Whetū Project Space, 2023
Article image:
Te Mahi Peita
(detail), at Tini Whetū Project Space, 2023
.
Photos by and courtesy of Tini Whetū.