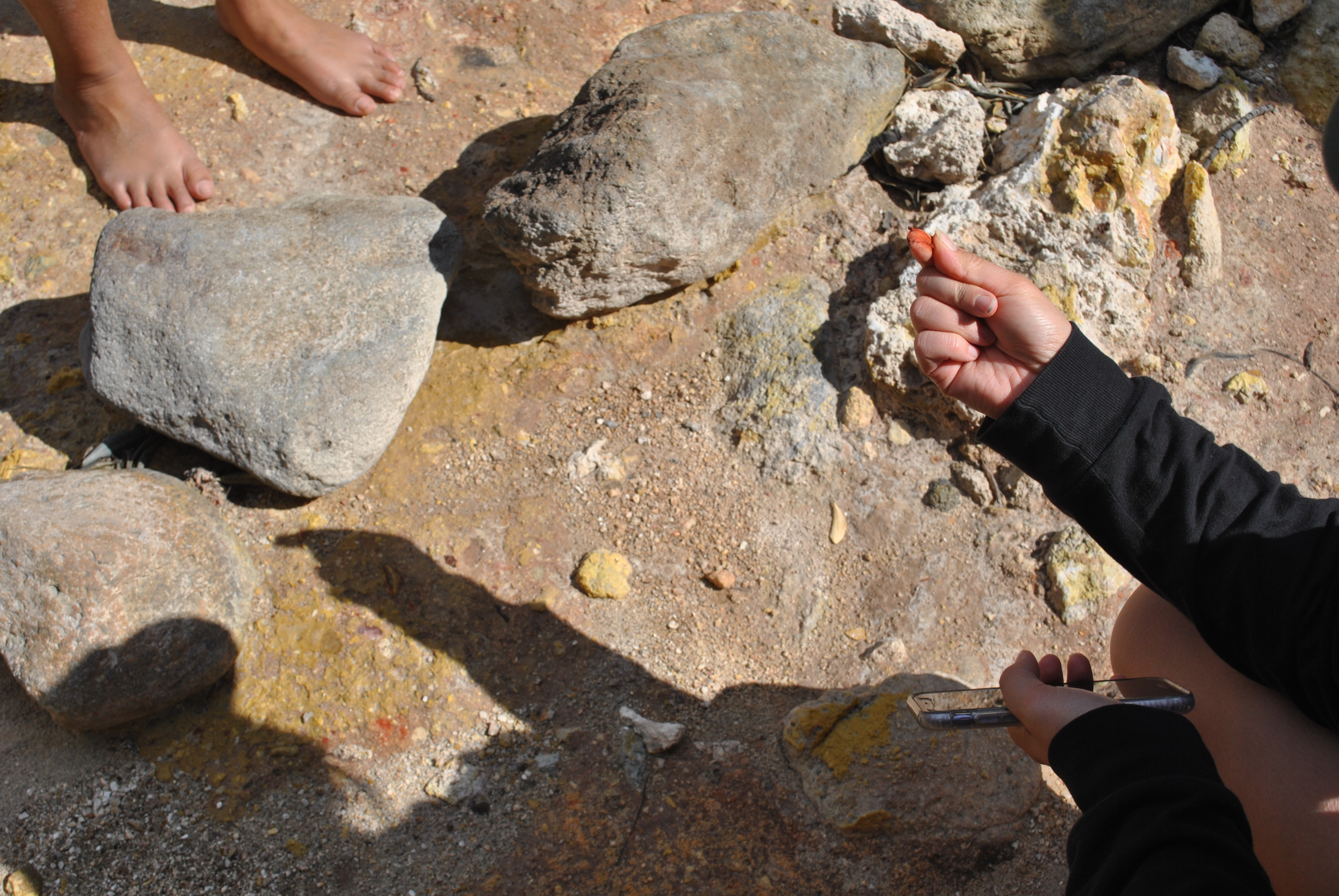 Mana Whenua at Wormhole

Jordan Davey-Emms in conversation with Sarah Hudson and Felixe Laing

Mana Whenua | Curated by Sarah Hudson | Wormhole, Edgecumbe

22.01.22 | written by Jordan Davey-Emms, Sarah Hudson, Felixe Laing
In December 2019 Sarah Hudson, Lanae Cable, and Jordan Davey-Emms formed
Kauae Raro Research Collective
. Initially their research circled Māori rock art, but the kaupapa soon zoomed out to Māori earth pigment practices. In 2020 Sarah secured CNZ funding to answer some of those questions. The result was
Mana Whenua
, a dusky pink 55-page publication that documents an art and mātauranga exchange undertaken by a cross section of Māori artists working with whenua.
Original works from the book will be exhibited at Wormhole Gallery and Studio, a new space Jordan is establishing in Edgecumbe. During exhibition prep, Jordan and Sarah talked about Mana Whenua. Later, Jordan wrote to friend Felixe Laing about the new space.
Conversation with Sarah Hudson, December 2 2021, Jordan's house.
Jordan Davey-Emms: So, in 2020, the three of us knew how we were using and relating to the materials involved in paint making: kōkōwai/earth pigments/clay/rock, and tree gums. Our experiences were personal, but isolated. Was the Mana Whenua project initiated to see how these materials were used—or could be used—or imagined—or what that relationship could be like for other people?

Sarah Hudson: Yeah. I came to appreciate working with earth pigments as a living practice, with a living material. I then wanted to know how other people would, or do, engage with it. All of these historical, ethnographic accounts about kōkōwai were what was coming up in our research, written through quite racist lenses. I recognised quite early on that it was hard to find contemporary conversations about this material and I needed to bolster that. We were in our first Covid lock down when I had this yearning for connection. Physical wānanga weren't appropriate, so I came up with a pen pal model. Being an artist can be really isolating, perhaps even more so for indigenous artists. I saw Mana Whenua as a way to connect people.

Mana Whenua publication 2019, photographed by Jordan Davey-Emms. Available on the
Kauae Raro website
.
JDE: For this project, you sent earth pigment, binders, and questions to eleven Māori practitioners. Were there surprises in what came back?
SH: Yeah. Each one was a surprise! Honestly... To undertake this I had to be quite systematic while upholding the mana of the whenua I was passing on. Like really specifically noting where each sample came from, or who it was gifted by. Getting the responses back felt a bit like Christmas.
JDE: I remember being gobsmacked by the generosity of the exchanges. It's something we felt strongly in people's responses to Kauae Raro mahi too. Findings and experiences were shared with such warmth.
SH: Yeah, SUPER generous. I was really humbled and excited. It felt like there was potential to grow this reciprocity. In some ways
Mana Whenua
was a pretty unusual project. It was research-based, with a quick turn around! It was sparked by us three being unsure about stuff, learning by working it out and sharing. The community vibe is really strong and we believe in shared mātauranga.
JDE: Something that struck me hard through Kauae Raro mahi, was that feeling of friendship and intense connection with the places we visited. Wanting to return to, care for, and learn about places as if they were friends or family. For me as a Pākehā, recognising some kinship with whenua was a big turning point. This work feels best when it's reciprocal.
SH: And I think that first ignited when we started visiting outside.
JDE: Yeah.
SH: We didn't know the potential of having a relationship with dirt before... It sounds sooooo airy fairy... But I don't know how else to talk about this stuff. I care about dirt! We've been on a big road trip of realisation. To go: it's people, and relationship with place. I think that's been front-of-mind from the beginning. It comes through stronger as we continue. And a community of backyard researchers and practitioners has emerged! Kauae Raro and
Mana Whenua
have encouraged thousands of people to try, or at least think about, touching dirt.
JDE: And if they can recognise 'home' through that process... Ah! It's so cool. This morning I saw a post by Tessa Williams on instagram. It was a picture of a chain painted with yellow ochre, with a quote attributed to you in the caption. Something like: working with whenua is intrinsically linked to
Land Back
. And I was like, yup. That's it.
SH: Yeah. Remembering Māori earth pigment practices has meant that I have spent a bit of time on the international pigment scene. It's frustrating to see the disconnect between practitioners who work with pigment, and any idea about where it comes from, who belongs to it, what their contemporary lived experiences are. Just lately I've been able to articulate it in a way that sums it up. If you're working with pigments or whenua, even conceptually, and it doesn't activate you politically… think critically about your material. You need to start. Land Back refers to actual land, but also culture, ceremony, mātauranga. All the stuff that we engage with through Kauae Raro. It seems like heaps of learnings have happened since
Mana Whenua
, and it's only been a year and a half since it was published.
JDE: How cool that the knowledge changes and grows. The book is like an anchor.
SH: It is an anchor. It's a really nice first stepping stone for lots of people.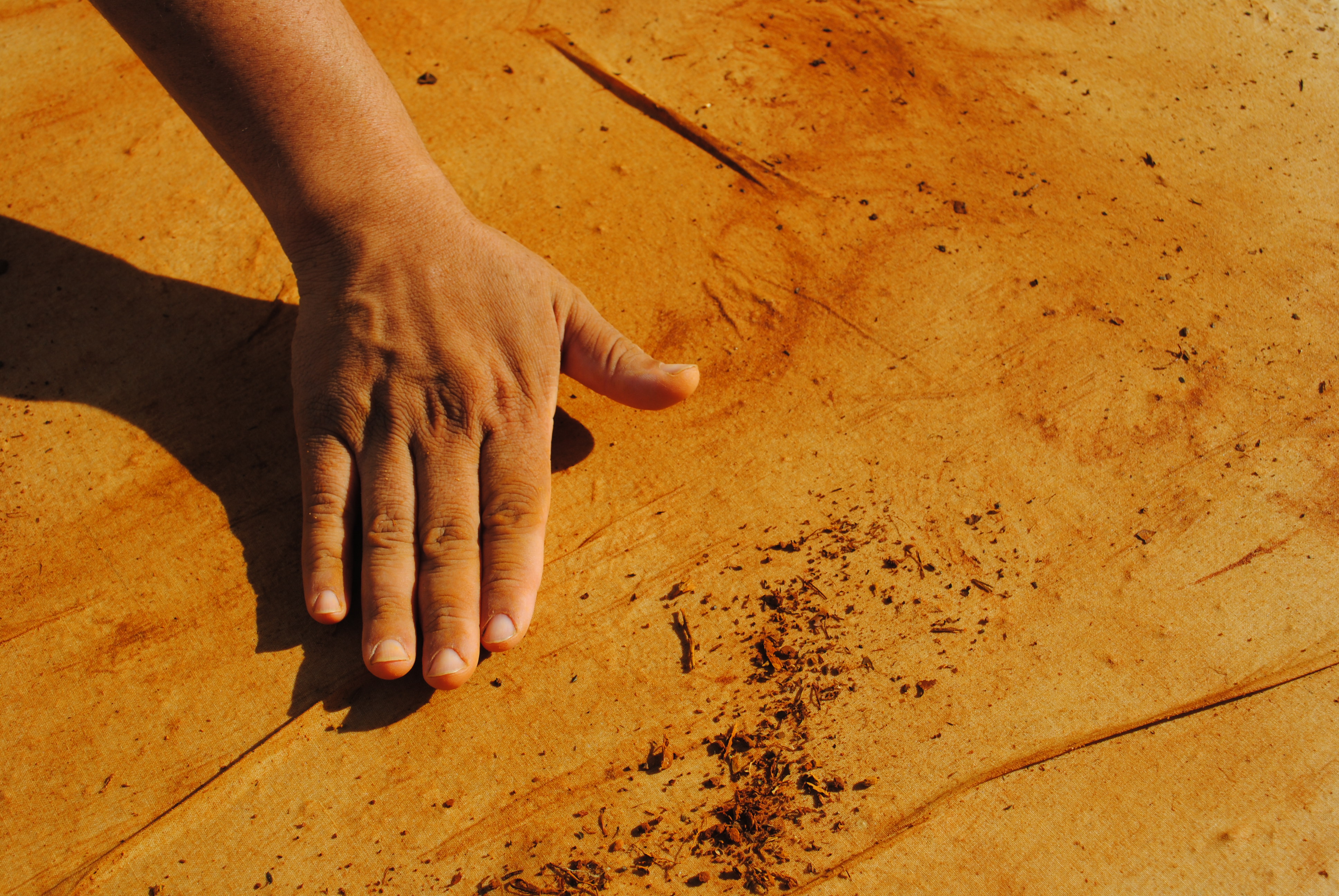 Staining, photo by Jordan Davey-Emms.
Conversation with Felixe Laing, January 15 2022, online.

Felixe Laing: We've known each other a long time now, after connecting in our last year at art school. I had this thought though, before we get into what Wormhole is, maybe we should talk about who you are?

Jordan Davery-Emms: Haha sure… I'm Jordan Davey-Emms, a Pākehā who's spent most of my life on Ngāti Awa land. I grew up between Edgecumbe, Thornton, and Whakatāne, with some time away studying at Elam in Tāmaki Makaurau. I've come home again post-study. It threw me a bit initially—just wondering how the strange concepts I'd been working on fit into everyday life. I've recently left my job at a council-run gallery to start a new gallery in Edgecumbe, my original hometown. It's cool to have a renewed relationship with that place. I'm looking forward to working with a bit more freedom, and really prioritising the people.

FL: I'm always intrigued/delighted by the names of artist run spaces—I'm a big fan of titles of anything to be honest, by how much work a few words do. I'd love to hear you unpack the origin of the name 'Wormhole'?

JDE: A wormhole is a sciencey concept—a shortcut that links different bits of time and/or space. I like the idea of multiplicities and of ideas from different places converging in EDK. As my dad says, "All roads lead to Edgecumbe!" The slow, diligent work of worms is relevant too. Slow digestion, transformation, earthly connotations, and bodily experiences of being in the world are themes and approaches I'd like the space to take on.

FL: Wow, loving the worm as a mascot for this multifaceted space, can you expand on the Kaupapa and vision you have for Wormhole?

JDE: The kaupapa is: look after the artists, and welcome the community in. We have a lot of intelligence in communities, and a real need for reciprocity in art spaces! I'm hoping to establish a friendly place to experience contemporary art. One that supports talk and criticality, works for artists, and connects with the earthly experience of being alive.

FL: As a local, and someone who has been working across the arts community in Whakatāne for a long time. What does it mean to have a place like this in Whakatāne? How does it fit into the existing artscene?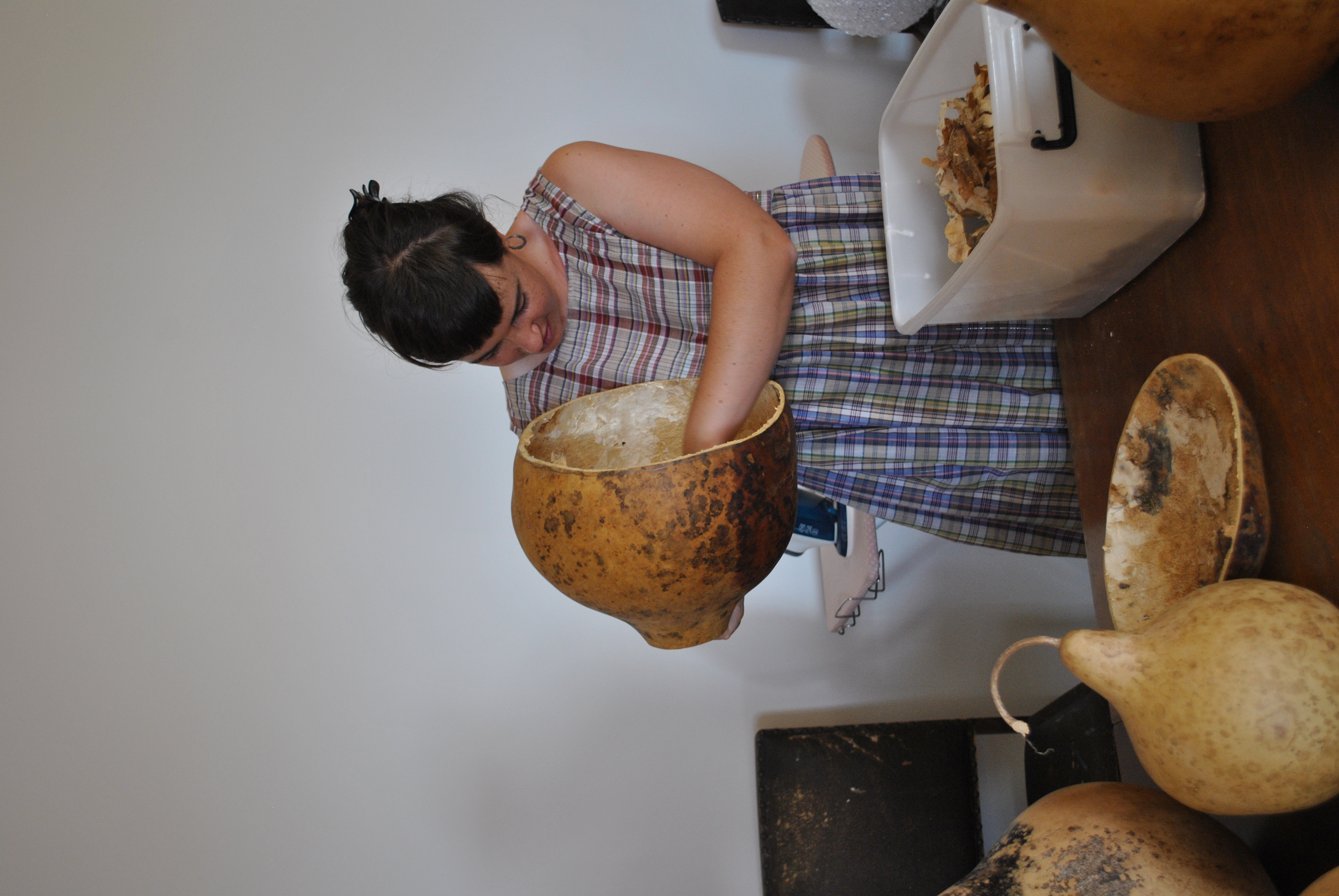 Jordan making the hue lights for Wormhole, photo by Felixe Laing.
JDE: There are two or three platforms for art in Whakatāne. I've been involved in all three over the years. They each have their purpose, but what is missing is a platform that supports experimental contemporary art practices. Starting an artist-run space has been on my mind for years. I keep thinking of complimentary, rather than competitive, additions to the art scene here, and tapping into some kind of abundance approach. Adding to the pool rather than straining the pond.
FL: When I visited Wormhole with you I was so excited that you have the two rooms, so much space! I even got some hands-on experience of using it as a studio when we were processing the gourds for the Mana Whenua exhibition.
JDE: Yes! Thanks for helping me cut and scrape the gourds/hue for the gallery light shades. Having these things my grandfather grew in Thornton, cleaned by me in Whakatāne, and finished with a friend in EDK to light the gallery space feels good. The physical site is a strange one with two rooms, two exits and grey and lockwood walls... The long plan is to run workshops in the second room, but for now it's a welcome studio space for me. It was cool to test out the two room flow when you visited. I'm thankful to have friends contributing to this project. Community is lovely eh.
Original works from
Mana Whenua
(2019)
will be on display at
Wormhole
from February to April 2022 as part of an exhibtion by the same name, featuring work by Ayesha Green, Sarah Hikuroa, Nikau Hindin, Ana Iti, Kahu Kutia, Sian Montgomery-Neutze, Bronte Perry, Nathan Pohio, Bridget Reweti, Raukura Turei, and Cora-Allan Wickliffe. Curated by Sarah Hudson.
Article image: Kauae Raro on Ngāti Awa whenua, September 2020, photo by Jordan Davey-Emms.
Kauae Raro Research Collective at Maunga Kakaramea (Rainbow Mountain). Sarah Hudson, Jordan Davey-Emms, Lanae Cable.