June editorial
On ellipses and returning
25.11.22 | written by Orissa Keane
There's something I'm enjoying about the title 'June editorial'. True, I did open this document and begin writing in it in June. It felt like a good time; Vernacular had just received a grant from Creative New Zealand and our Boosted funds were dwindling. In June I was in Ōtepoti when Matariki was visible in the sky. I wrote this passage:
It's a different feeling to be reflecting in winter on the cusp of a new year—maybe the smell of hot grass and over-ripe fruit does nothing for a feeling of renewal. Indeed, maybe the thick cool air and frosting mornings in Te Waipounamu are better indicators of change. On reflection, it hasn't quite been a year but it feels like it has been, too much has happened and I've been learning…

I've been learning
… True, but I can see that I didn't know at that time, either, where I wanted that sentence to end. True, also, that I've continued learning how to
do
Vernacular—and will continue. So maybe it was a good place to leave it.
Recently I've been noticing in artists' practices, and in writing and conversation, the value of cycling back to the same point again and again. In no way does this mean that this 'point' is ever fixed, either. In terms of research, returning and layering is a way to develop and understand deeper and
differently
if not to use the word
better
. Part of me, if for a second, still wonders about a depletion of resources in returning to the same place; as if it drains something away. However, I've found through thinking about how other artists and writers are working, returning can be a renewal; bringing with you what you've found along the way, circling back with more to offer. Admittedly, I've been working with Ziggy Lever and Lucy Meyle for
Correspondence
Issue 2.1.
1
Ziggy and Lucy's collaborative practice has them tracing over the same ground often. Oliver Perkins as well, whose practice I got to dip into in the shallow end and write about recently, has a very materially generative way of returning to itself. He told me that Hamish Win referred to this way of working as the ongoing creation of an 'elliptical archive'.
I see now where ellipses fit in.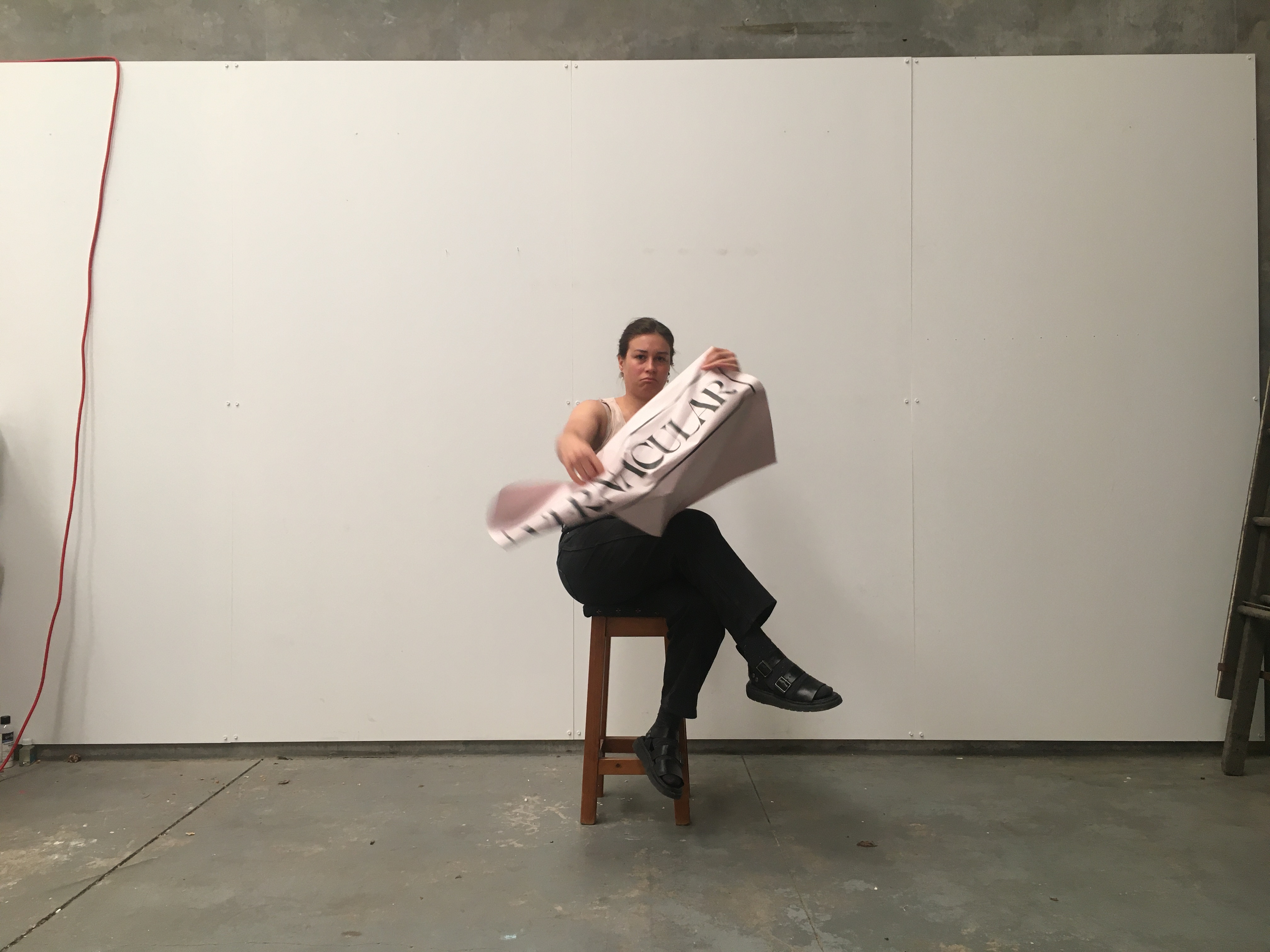 Self-timer fumble towards
first editorial
image, 2021.
I was recently part of a
panel
discussion on the values and shortcomings of in person, in print, and online modes of discussion led by Claire Harris with Melanie Tangaere Baldwin and Hana Pera Aoake. The words that kept coming up were to do with care and safety, and what we ended on were questions of who and why for. The discussion brought up a lot of questions for me, they followed me; I think a lot about what more Vernacular can do—or even, often, what Vernacular is—but as my good friend Alicia said a lot in art school: Keep it simple, stupid.
But this open-endedness, the questions with no resolution, I found hard to be at peace with. Even more recently I was part of a writing workshop led by Christina Barton at the Aotearoa Art Fair 2022. Christina invited a panel of established writers to talk to us;
2
I brought up that as a group we'd done read and discussed a couple of texts—the one by Tendai Mutambu which got a bit of attention, and one by Lana Lopesi—both commenting on the state of art and art writing and how it was a bit dull.
3
I asked something along the lines of how to resist the persistent rhetoric of there being no culture of feedback through criticism in Aotearoa. Kim Meredith laughed and said something like Kiwis love to shit on this country.
4
Jarret Earnest followed by saying criticism has always been in crisis. It was a healthy reminder. The discussion moved on and again there was no real resolution. There was nothing tangible I felt I could hold onto, take with me. But I know at the same time that I got a lot out of both this discussion and the one at Enjoy; the tangibility just takes a while to settle into some kind of sediment. In terms of cycling back over the same ground, I wonder how fruitful it is to keep returning to this 'crisis'; it's a tired rhetoric and, from what I've heard, the grass isn't all that greener elsewhere. Then again, I wonder how we can continue returning to this in a way that promotes renewal and growth.
I went to see
The First Prime-Time Asian Sitcom
by Nahyeon Lee at Q Theatre.
5
After throwing up about every issue in our contemporary discourse around diversity, representation, and Asianness, the play ended in a screaming rage. There was no conclusion, only frustration; questions with no knowable answers. But this rage held a kind of generative energy like that of a catalyst.
I'll write a follow up to this in January… something with a little more pep. For now I'm going to stay with these loose ends while I wait for the sediment to settle.
November marks our one year anniversary.
Vernacular would like to acknowledge the generous support we have received from day one: from our followers, readers, donors, and from Creative New Zealand.

Please get in touch! We accept feedback, pitches, submissions, and general expressions of interest—even if you have nothing more to say than kia ora. Message us on Instagram or send us an email.

Article image: Min-Young Her and Orissa Keane, Floor study, towards
Made from local and imported ingredients
, 2021.
See also:
With training wheels on: A facilitatorial
.
1. You'll be able to find the next issue of Correspondence, including this referenced contribution, on The Physics Room's
website
from November 30th.
2. Panel included, Kim Meredith, Becky Hemus, Lachlan Taylor, Anthony Byrt, Susan Ballard, and Jarret Earnest.
3.
Tendai Mutambu, Metro Arts, Vol. 2, Issue 1, Tuesday September 6 2022.
Lana Lopesi, 'Why art is a little boring right now (and why that might be for the best)', Metro, Spring 2022, pp. 226–228.
4. For context, Kim wasn't directly saying that about what Tendai and Lana wrote, it was also in response to a
soundbite
from Creative Matters: Scott Lawrie saying, "the standard of art writing in this country is abysmal."
5. See reviews:
'Representation is always going to be imperfect', The Spinoff, 2022.
Nathan Joe, 'Everyone is a diversity hire', Pantograph Punch, 2022.